There is approximately one month to apply to the EFFEA Call#2. Join us for the next info sessions on 17 May and 7 June.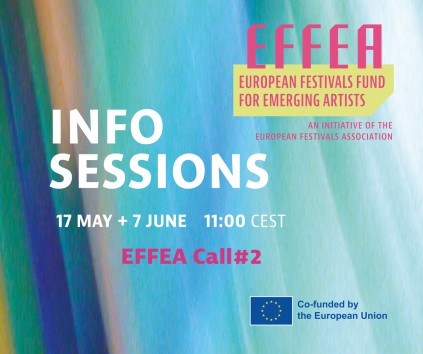 Attention all arts festivals and emerging artists! The European Festivals Fund for Emerging Artists - EFFEA is excited to invite you to two upcoming info and networking sessions about its current open call. These will be an exceptional opportunity to gain valuable insights on Call#2, ask your questions, connect with other festival organisers, and learn from the experience of the first EFFEA generation.
The sessions will take place on 17 May and 7 June at 11:00 AM CEST. Please register here to join us on Wednesday 17 May at 11:00 AM CEST and here to attend on Wednesday 7 June at 11:00 AM CEST.
Depending on the demand, we might organise some extra networking moments. Stay tuned!
In the meantime, don't hesitate to contact Donika Rudi Berishaj, EFFEA coordinator (donika@efa-aef.eu) and Luana Santos, Communication and Administration Assistant (luana@efa-aef.eu) if you have any questions.