Residency of Slagwerk Den Haag, presented by STROOM in partnership with Wonderfeel & Valley of Arts Festival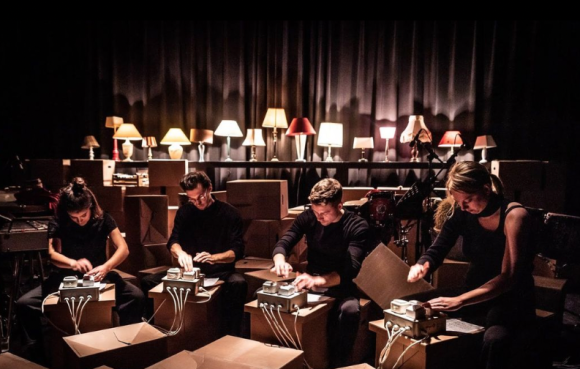 It is often said that music can be made out of anything that can generate a sound and, in the hands of a skilled performer, the result can be more than just a succession of noises. This year, the percussionists of Slagwerk Den Haag have been setting out to prove it - and drawing attention to the amount of containers that litter and clog our environment.
As part of a collaboration between Stroom Festival in Belgium, Wonderfeel in the Netherlands and Valley of Arts in Hungary the group has been gathering the rubbish strewn in the festivals' neighbourhood and banging, rustling, striking and scraping it to see if the objects can be recycled as instruments before being disposed of properly.
Tamar Brüggemann, the Director of Wonderfeel, says, 'the moment I discovered the group I thought they were really interesting and they have appeared at Wonderfeel several times. Last year we had a tribute to John Cage [the avante garde Californian composer] who was fascinated by growing mushrooms so we had an installation where we put radio antennas in the mushrooms and processed the results into music.'
'This year the players are being joined by the audience on a Waste Walk through the nearby forest and heathland, gathering rubbish and seeing what music can be made from what they find - on wood, leaves, biowaste, plastic, rubber: whatever they come across along the way.' Of course they may find that the public have been very good recently and that there is not enough waste to create an interesting work. 'If that happens,' says Tamar, 'they'll ask the audience to bring along old furniture or kitchen utensils that are destined for the tip and give them a rousing goodbye.'
All three festivals have environmental sustainability at the heart of their ethos. Stroom takes place all along the valley of the Scheldt river as it flows through Flanders - an area particularly susceptible to climate change-induced flooding - Wonderfeel happens on six outdoor stages erected in a nature reserve at 's-Graveland, near Amsterdam, and Valley of Arts is held in the very rural community around the village of Kapolcs in Western Hungary, a few kilometres north of Lake Balaton. They decided to work together as part of the call from the European Festivals Fund for Emerging Artists (EFFEA), which encourages festivals to give a springboard to performers who have an established local name but are less known internationally. 'Slagwerk Den Haag have been famous in the Netherlands for decades but, even though Flanders is so close, they have rarely played there and they've never been to Hungary,' Tamar explained.
Along with their waste walk, the group will also be performing their normal very contemporary repertoire on stage, including music by Kate Moore and Philip Glass. Whatever they are playing, Tamar says, 'we want the audience to learn how to listen differently, to understand the environment by realising there can be music in almost anything.'
by Simon Mundy