Thank you for applying to the second call of the European Festivals Fund for Emerging Artists - EFFEA.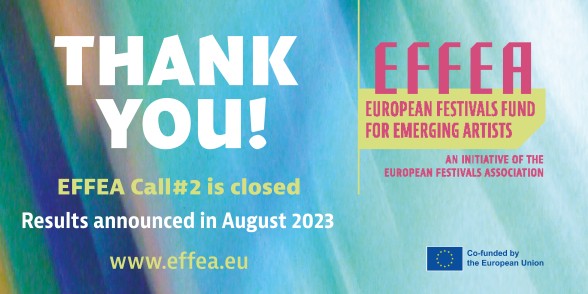 We are very happy to see such an incredible response from the festival community. Over two months, with the boost of 9 info and networking sessions, active engagement on FestivalFinder.eu and through our social media channels, we have witnessed a remarkable level of participation. Around 420 festivals have registered on FestivalFinder.eu since the beginning of Call#2. Among them, 229 festivals from 41 Creative Europe countries, representing 15 different artistic disciplines, have put forward residency proposals to nurture and support emerging artists. Thank you for your enthusiasm and active engagement in EFFEA.
Currently, the EFFEA Jury is reviewing the applications. By the end of August, the European Festivals Association team will contact the festivals with the final decision, and a public announcement will be made in August 2023.
For those of you who have been thinking about applying to the call but haven't been able to complete it within the given timeframe, we have good news. The third EFFEA Call will open at the beginning of next year, allowing you to implement your ideas or explore new possibilities to support emerging artists and connect with other festival colleagues. Stay tuned for more information: make sure to be part of our Facebook Community and follow us on our Facebook page if you haven't already done so.